What Is Auto Window Tinting?
Window tinting of automotive windows is the process of applying a thin, transparent sheet of film to the inside of an automobile's windows. This can include the driver side, passenger side, back, and even the rear window.
How Long Does It Take To Tint A Car?
The duration of getting your vehicles window's tinted depends on the size of the vehicle and the person performing the service. For a general reference, the typical sedan takes roughly two hours.
Can You Wash Your Car After Having Windows Tinted?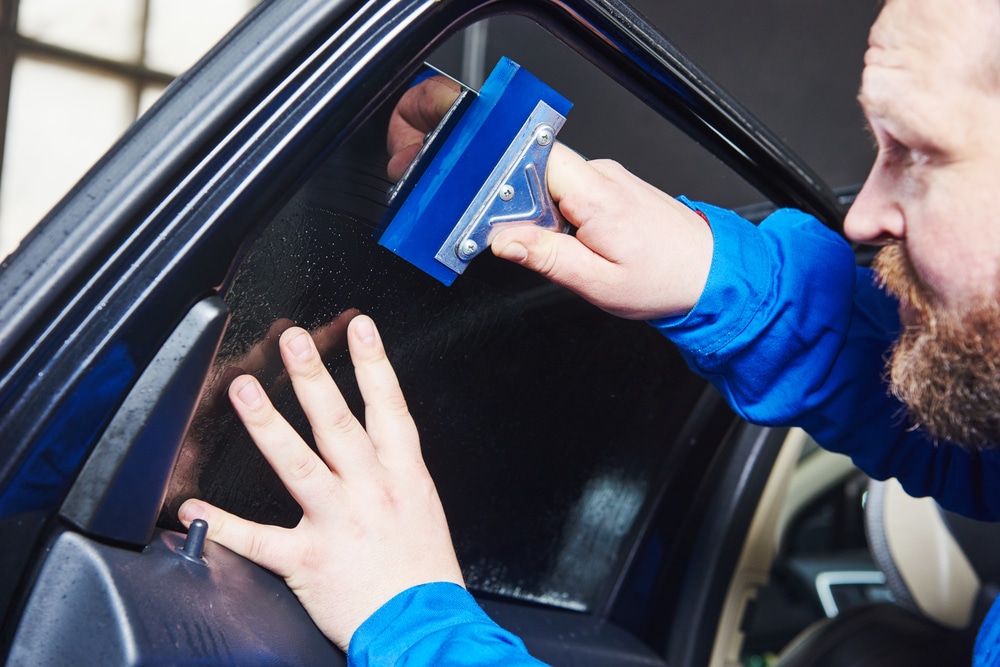 To answer this commonly asked question, yes, you can wash your vehicle after getting your windows tinted because the tint film is applied to the inside of the window, not the outside. With this being said, do NOT wash or clean the inside of your window after it has been tinted. Ask your window tinter how long until you can clean or wash the interior side of the windows.
What Are The Pros and Cons Of Window Tinting Your Vehicle?
There are numerous advantages to tinting the windows of your vehicle. Whether it is for aesthetic, function, or both, window tint can be a great thing. However, there are cons you should be wary of.
6 Benefits Of Auto Window Tinting
Blocks Damaging UV Rays: One of the most well-known functional benefits of auto window tinting is the ability to prevent fading and damage to a car's interior from ultraviolet light exposure. This doesn't only go for the interior of the car, this can protect you! Around 80% of Damaging UV Rays can be blocked by utilizing tinted windows.
Reduces Heat and Visible Light: This can make your drive cooler, more comfortable, and less harsh on your eyes, especially on hot and sunny days.
Reduced Interior Fading: As stated above, window tint can prevent excessive interior bleaching and fade from solar heat and UV Rays.
Protection of Glass: By adding an additional layer to the glass window, you are offering an extra layer of strength to the glass. This could prevent shattering.
Security: Tinted windows are difficult to pear into. This privacy can make your vehicle safer. Shattered glass protection
Aesthetic: Many car owners choose to tint their windows primarily for the aesthetic it brings to their car. The look can be quite popular for car and truck enthusiasts.
Cons of Auto Window Tinting
Difficult to remove: If you are set with keeping the tint, this is nothing to worry about but if you decide to remove it, you are in for a difficult task. It is best to get help from a professional to dodge damage.
Possibility of vehicle value reduction: If you plan on selling your vehicle, window tint can be a make or break for potential buyers. Some people want a vehicle with it and some without it. Additionally, is more challenging to remove tint than it is to tint on a clean window.
Tint can be damaged if not taken care of
Too dark of tint is illegal (depending on your area): Make sure the percentage of tint you receive is legal to prevent a pricy ticket, leading to removal.
What Is The Utah Window Tinting Law?
For the windshield, a Non-reflective tint is allowed above the manufacturer's AS-1 line or top 4 inches.
As for the front side windows, you must allow more than 43% of light in. The back side windows and the rear window can allow any tint percentage, meaning any darkness.
Is Window Tinting Worth It?
When it comes to auto tinting, it is a personal preference. If you choose to get your windows tinted, be sure to do your research, only get the tinting done by a professional, and make sure the tint percentage is at the desired darkness. Contact Layton Carcare for more information about automotive window tinting today.